Ice Legal News & In the News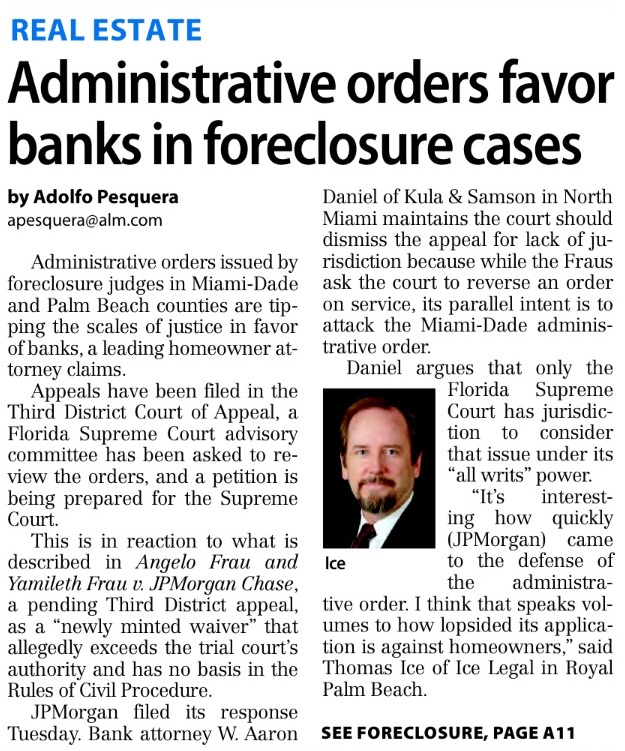 Read more of the DBR article (requires subscription)
Resources:
Public Records Concerning the Administrative Order
Letter to the Supreme Court Local Rules Advisory Committee
Ice Legal was proud to participate in the Literacy Coalition of Palm Beach County's Loop the Lake for Literacy bicycling event February 22, 2014.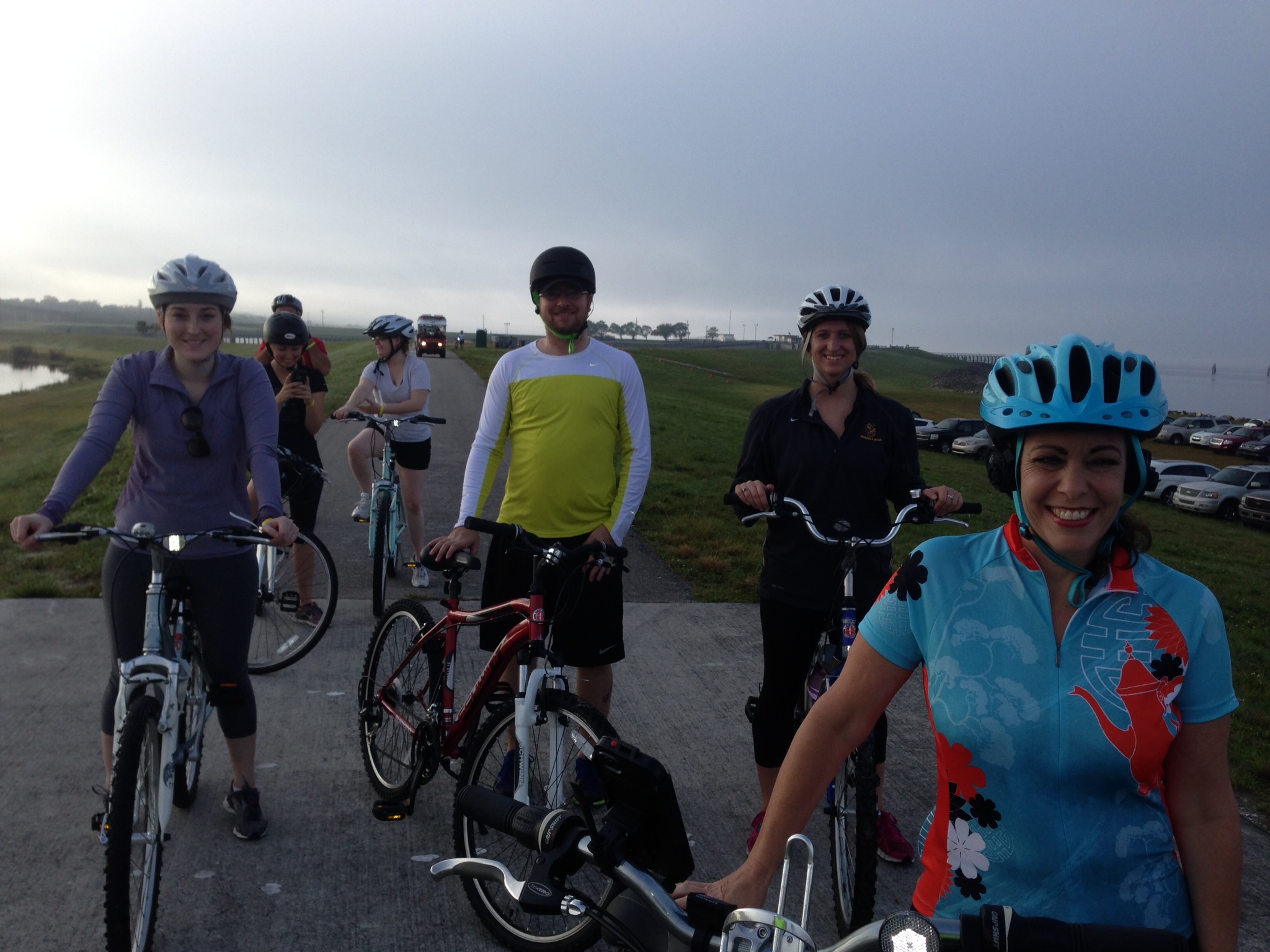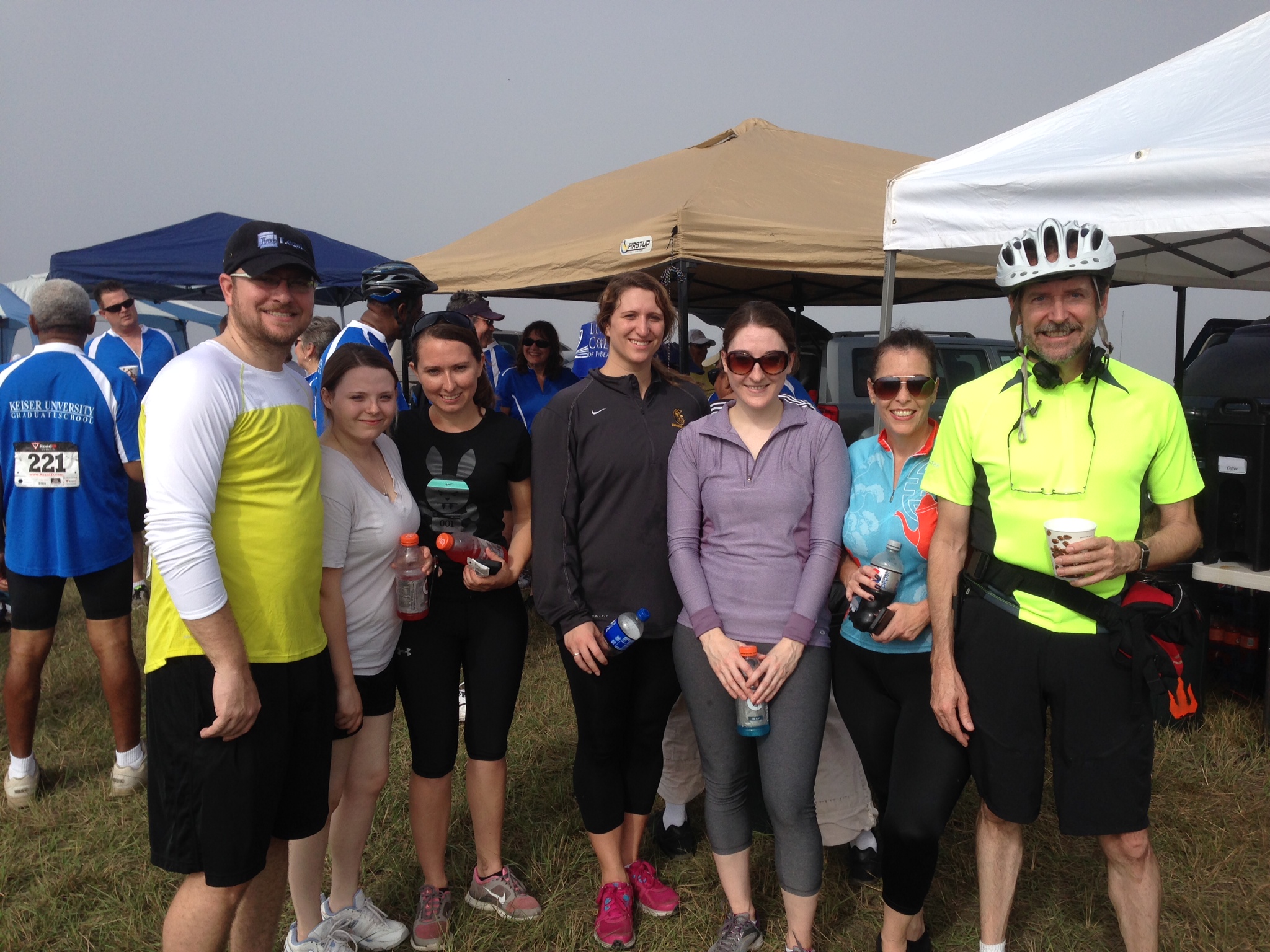 ..."Royal Palm Beach attorney Thomas Ice, who represents homeowners in foreclosure, said the case was one of a string of cases the appellate courts have been reversing on standing issues. 'This woman will now have the opportunity to get a trial,' Ice of Ice Legal said. 'It's impressive that a pro se appellant can get a favorable opinion. I think it's good that the appellate courts are continuing to emphasize that you have to prove standing at the time you file. You can't just walk in with a note that's endorsed in blank. You would think after being told this several times that the banks would stop going forward on summary judgment with this argument ... and recognize they are leading the trial courts to errors.'"
To read more, follow link in title above.
Ice Legal is proud to sponsor the Drop It, Built It, Float It, Launch It, Thrill It 2014 competition of the South Florida Science Center on Saturday, April 12, 2014. Elementary through high school students will compete for cash and prizes in this fun, engineering contest.
https://www.sfsciencecenter.org/Dropitbuildit2014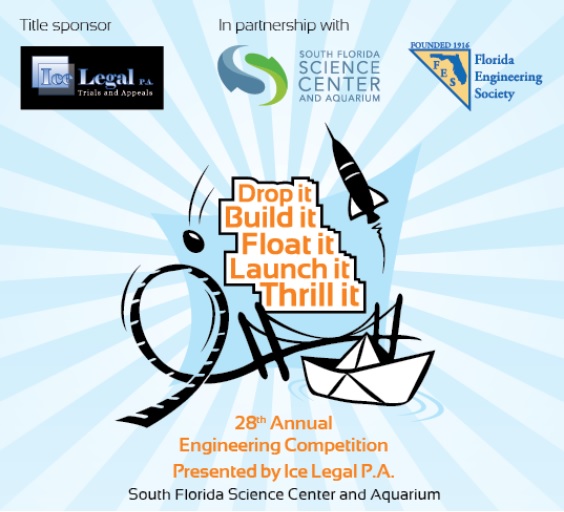 ..."Ice Legal founder Thomas Ice of Royal Palm Beach observed: 'There's dual pressure on banks not to file cases. … This was an environment created by the courts themselves to try all these cases come hell or high water.'"
"'Banks have lost control of the pacing of their own judgments," Ice said. 'Before they could sit on the cases for years until they were ready for sale. But now cases are going to trial even though neither party wants them to go.'"
To read more, follow link in title above (requires subscription).
Prominent Royal Palm Beach attorney Tom Ice has withdrawn his sponsorship of a popular foreclosure forum because Palm Beach County judges objected to attorneys acting as moderators and questions had to be generated in advance to be shared with panelists before the event.
..."Thomas Ice ... helped expose the robo-signing scandal. He testified for the Bar at a hearing in the Stern case.'This closes a chapter in the foreclosure crisis and on some of the most abusive practices of these foreclosure mills,' Ice said."
Oral Argument January 7, 2014.
Part 1:
Part 2:
The transformation of robo-signers into robo-testifiers.
The greatest threat to due process in foreclosure litigation since the days of robo-signing is at full tilt in courtrooms across the state. While the nation was appalled at the discovery that financial institutions were regularly foreclosing on homes with summary judgment affidavits that were not based on personal knowledge, it has taken little notice of the fact that this same flippant disregard of the Rules of Evidence has simply moved into the courtroom. The robo-signer of yesteryear has simply become a robo-testifier—a person who testifies live at trial about every aspect of the case, including recordkeeping practices about which they often admit to having no personal knowledge.
Ice Legal was the Presenting Beekeeper Sponsor for the 2013 Great Grown-Up Spelling Bee to benefit the Literacy Coalition of Palm Beach County. [click here for website]
The contest was held at the Harriet Himmel Theater, CityPlace, West Palm Beach. The Ice Legal team of spellers made an admirable showing for their first competition, lasting several extremely difficult rounds. The top prize was taken by the Palm Beach State College Team. The Palm Beach Post took second, and Lynn University took third.
Ice Legal supports community service and its attorneys are actively involved in carrying out this sense of civic responsibility. Ice Legal shares many of the same goals as the YMCA, such as youth development and education, healthy living and social responsibility. We are proud that one of our attorneys has been named as the Chair of the YMCA 2014 Annual Fund Raising Campaign in Osceola County.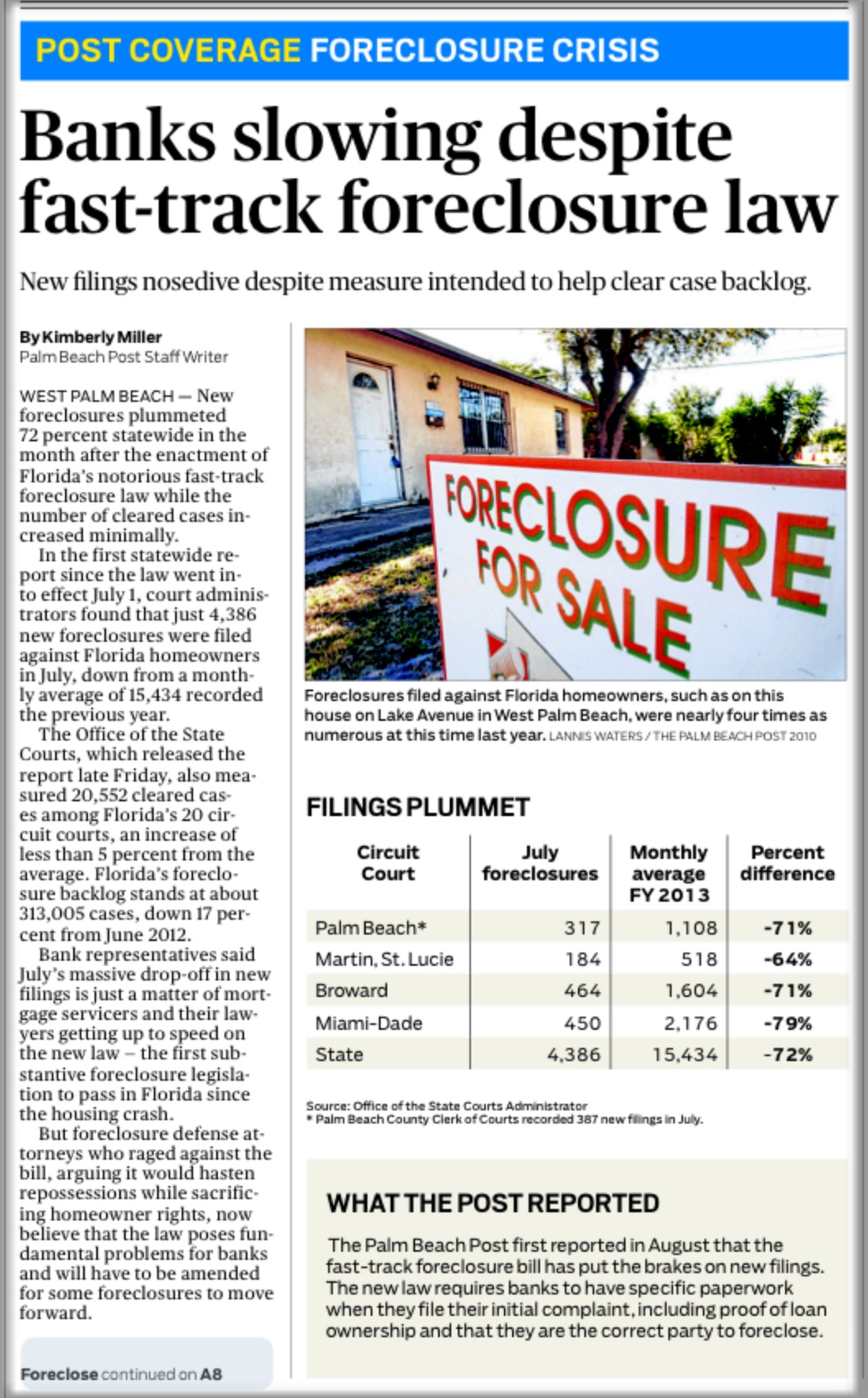 ...Royal Palm Beach based attorney Tom Ice agreed.
"Any increase in the clearance rate is due to the dubiously concerted efforts of the courts—funded with money from the ( National Mortgage Settlement)—to force cases to trial against the wishes of the banks and the homeowners," he said.
"I am one of many who believe that the greatest threat to homeowners' due process rights is the judiciary, not the legislature," Ice said.
Ice Legal attorney, Amanda Lundergan, appeared on a select panel addressing The Borrower's Perspective: Insights From the Plaintiff's Bar and Consumer Advocates at the American Conference Institute's 12th National Forum on Residential Mortgage Litigation & Regulatory Enforcement held September 26-27, 2013 in Dallas, Texas.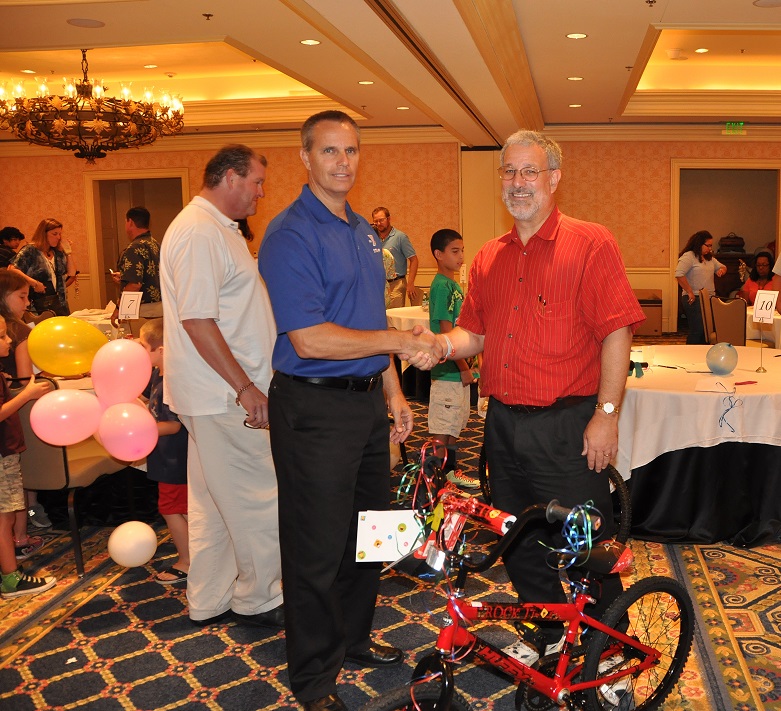 Mike Martino, Executive Director of the Osceola County YMCA, accepts delivery of bicycles from Ice Legal, P.A., attorney and Osceola County YMCA Board Member, Randy Ackley. Ice Legal, donated the bikes to the YMCA to assist with its efforts to help families struggling to meet their health and fitness objectives. Ice Legal gave nine bikes of various sizes to the YMCA and the YMCA identified several children who needed bikes and is also using some of them to support its Annual Scholarship Campaign and efforts to kick off a triathlon program.
On October 11, 2013, Amanda moderated a panel of judges and defense counsel who addressed:
---
What Judges Want Foreclosure Attorneys to Know
Judge John B. Bowman, 17th Judicial Circuit Court of Florida
Judge Mily Rodriguez Powell, 17th Judicial Circuit Court of Florida
Judge William W. Haury, Jr., 17th Judicial Circuit Court of Florida
Roy Oppenheim, Oppenheim Law, P.A.
Moderator: Amanda Lundergan, Ice Legal, P.A.
---
...Foreclosure defense attorney Thomas Ice of Ice Legal in Royal Palm Beach has been watching the case closely.
"Although the court doesn't use the word 'robo-witness,' this is the case that we've been waiting for on that subject," he said. "It could be the death knell for the banks' business practice of using professional witnesses at trial to introduce computer printouts, where the witness' only connection to those printouts is that they read them shortly before trial."...
...By reversing Cox, the Fourth District noted as precedent a similar decision it made in 2011 in Glarum v. LaSalle Bank, where a bank officer relied on for testimony had read material from a database and couldn't verify whether the entries were correct.
Ice was involved in that case.
He said the one addresses a problem that defense attorneys have been complaining about for some time — bank and association witnesses parroting what's in a document without personal knowledge of its accuracy.
"It says that the Glarum case applies in the context of trial, that a plaintiffs witness cannot just utter the 'magic words' of the business records hearsay exception to introduce their accounting records," Ice said. ...

...Royal Palm Beach based foreclosure defense attorney Tom Ice was one of the first to raise concerns about the trusts after a client signed his deed over to Fidelity.
"These scams prey upon those that already have financial difficulties and directs them away from resources that could help them," Ice said Monday. "Worse, because they involve filing frivolous motions, it denigrates the legal profession and creates even more confusion in the courts." ...

...Ice never accepted the court's premise that foreclosure cases be brought in compliance with state time standards. He said the standards never contemplated the foreclosure crisis and didn't account for cases where neither party wanted to proceed....
...Ice predicted legal challenges to the law. One constitutional challenge may be that the law infringes on the Supreme Court procedural rulemaking authority because it spells out how foreclosures will be handled. A second, more serious, challenge, he said, is likely over the provision that limits a homeowner who was wrongly foreclosed to monetary damages instead of reclaiming the home if it was purchased by an innocent third party. ...
Thomas Erskine Ice was named as one of Florida's Legal Elite in the tenth edition of Florida Trend Magazine's Florida Legal Elite (2013). Steve Brotman was also named an "Up & Comer"—one of only 175 attorneys in Florida under the age of 40 who were honored as having exhibited leadership in the law and in their community. This prestigious publication has recognized Ice Legal attorneys as some of the most esteemed attorneys in Florida as chosen by their colleagues. This peer recognition program garners awards for the top two percent of lawyers practicing in the State.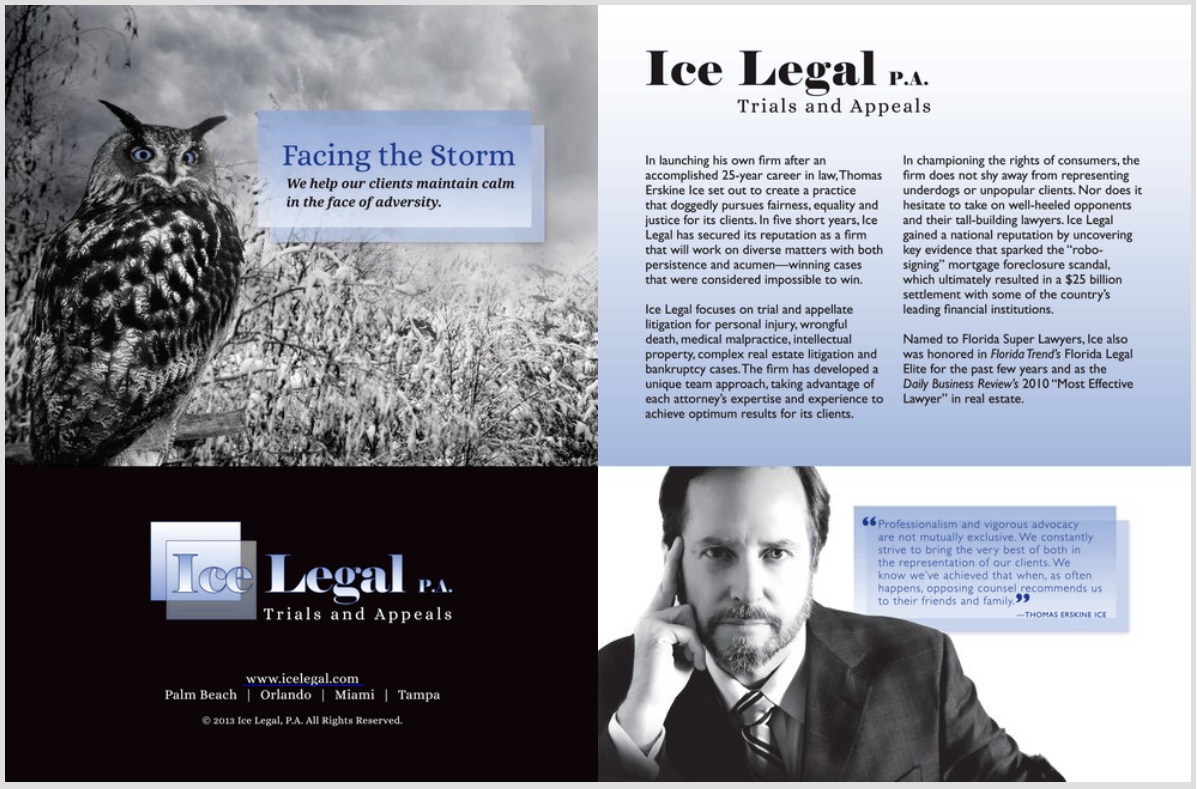 Each year, no more than five percent of the lawyers in the state are selected by the research team at Super Lawyers to receive this honor.
Super Lawyers, a Thomson Reuters business, is a rating service of outstanding lawyers from more than 70 practice areas who have attained a high degree of peer recognition and professional achievement. The annual selections are made using a patented multiphase process that includes a statewide survey of lawyers, an independent research evaluation of candidates and peer reviews by practice area. The result is a credible, comprehensive and diverse listing of exceptional attorneys.
The Super Lawyers lists are published nationwide in Super Lawyers Magazines and in leading city and regional magazines and newspapers across the country. Super Lawyers Magazines also feature editorial profiles of attorneys who embody excellence in the practice of law. For more information about Super Lawyers, visit SuperLawyers.com.
View the digital version of 2013 Florida Super Lawyers Magazine.
..."If the cases are undefended, they should go to trial and be disposed of quickly," said Royal Palm Beach-based attorney Tom Ice. "But if you set 70 cases for trial in one morning, it's prejudicial to homeowners defending their case because in five minutes you're either not going to get a fair trial or it's not going to happen that day."
...A year after attorneys general signed a $25 billion settlement with the nation's largest banks accused in the robo-signing scandal, the landscape hasn't changed much for plaintiffs in Miami-Dade, said foreclosure defense attorney Thomas Ice, founder of Ice Legal in Royal Palm Beach. ... "In short, the robo-signing has not gone away, it has simply moved into the courtroom," Ice said.
...
Royal Palm Beach-based defense attorney Tom Ice, who tangled with Fidelity to retrieve a client's deed, said he thinks it will be hard [for Fidelity] to recover from such sternly worded judicial decisions.
"Faced with this scathing order from a federal judge," Ice said, "I would definitely have second thoughts about moving forward."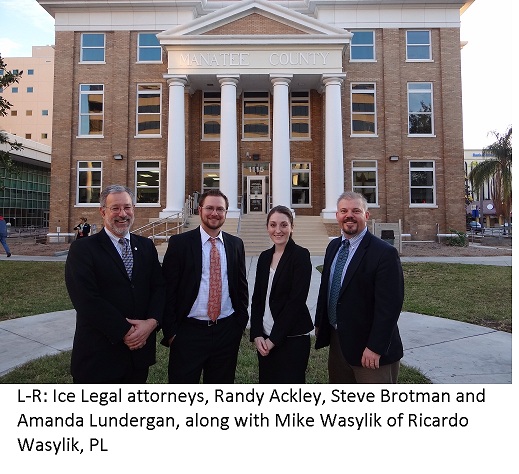 Ice Legal attorneys, along with members of a local legal defense group changed the course of events for pro se homeowners in Manatee. With the assistance of Gulfcoast Legal Services, Ice Legal led the way in volunteering legal services for homeowners who appeared for foreclosure trials without representation by an attorney.
"It is difficult to jump into a case on the day of trial," said Tom Ice, the firm's founder. "But, the banks are not expecting an attorney on the other side, so they are often unprepared for any real resistance."
The attorneys worked all day long in the Manatee County courtroom staving off judgments in cases where the banks had not brought the evidence necessary to show they were entitled to foreclose or how much was owed.
..."What is groundbreaking about the plea agreement is that it holds Mr. Watson accountable, not for doing these things himself, but for failing to supervise and train his associates and control firm policies so that others didn't do these things," said Royal Palm Beach-based foreclosure defense attorney Tom Ice. "It acknowledges that many of the practices we have been complaining about were actually taking place." ...
With respect to Miami's new trial rocket docket, "Royal Palm Beach-based foreclosure defense attorney Tom Ice is not impressed. He likened Miami-Dade's trial program to a 'cattle call' and said cases tried without proper trial orders are void and can be rolled back by homeowners."
(If you were recently foreclosed on by trial in Miami, call us. We will explain "void" judgments and determine whether you can vacate the judgment against you.)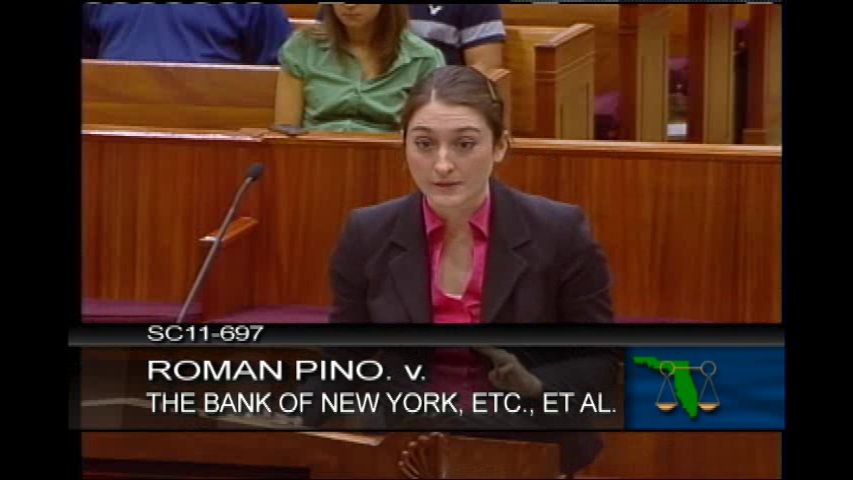 "If you do not give the courts permission to address fraud, it sets up a system where every litigant's bad acts are not only condoned but encouraged. They can lie and cheat. If they get caught, they simply dismiss."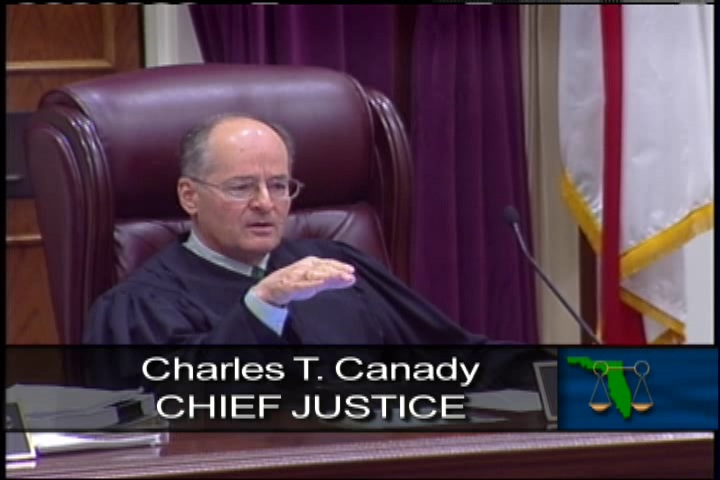 "What it seems like to me, you're just looking for a 'gotcha' to get out of the mortgage. Am I wrong?"
Lundergan: "Absolutely wrong."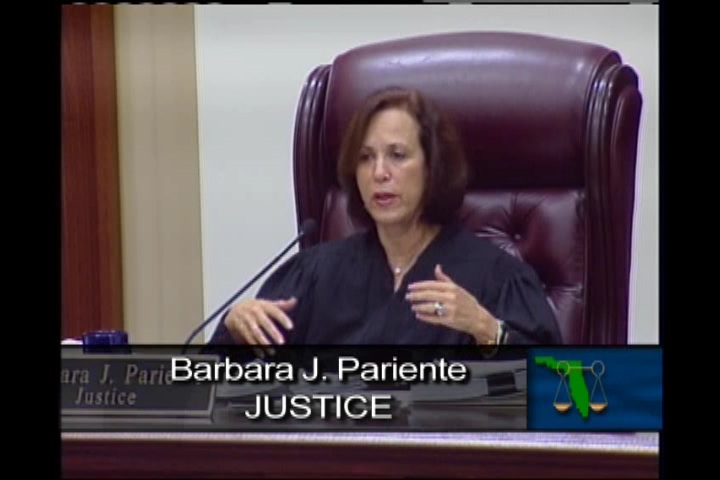 "I understand that there are some things that have happened, I mean on a grand scale, that it should be an embarrassment to an industry, to the legal system. And your firm, in terms of uncovering what happened here, you know, appreciate that. … I think there is a grave concern that the Plaintiffs who were foreclosing on mortgages whether I thought it was just, you know, robo-signing which would be different, this looks like actually a fraudulent document that was used for an assignment, blatantly fraudulent document."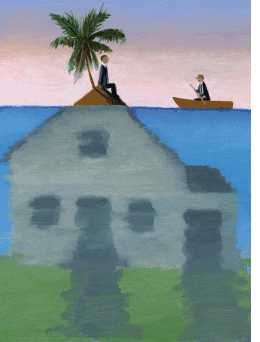 Contemporary negotiable instruments law developed hundreds of years ago, before every important institution of the modern financial world: incorporated banks, business corporations, developed capital markets, global monetary systems, electronic transfers, and even paper currency. It is counterintuitive that this ancient law of negotiable instruments would have any relevance to one of the world's most sophisticated, cutting-edge tools of high finance — the pooling and securitization of mortgage loans. Yet, the courts routinely look to such law to resolve a foreclosure crisis spawned by the collapse of mortgage-backed securitization, a process which is as strained as trying to decide First Amendment issues using cases pre-dating the Constitution. It is all the more extraordinary that, just as the nation begins to awaken to "robo-signing" and other such pervasive and methodical abuses of the court systems, judges should find themselves slavishly compelled to apply a body of law shaped (and then abandoned) by the very authors of such scandals: the financial institutions.
The South Florida Business Journal has recognized Thomas Erskine Ice as one of its "Key Partners" in South Florida. The Key Partners Awards were created to honor South Florida's top attorneys and accountants, based on demonstrated success over the past year to 18 months.