Trial and Appellate Attorneys
We are an AV-rated trial and appellate litigation firm dedicated to practicing in the areas of personal injury, commercial and foreclosure litigation, bankruptcy, and criminal defense. Our exceptional team approach to our cases brings over a hundred years of combined litigation experience to bear for our clients.
Ice Legal News
Ice Legal supports academics and education.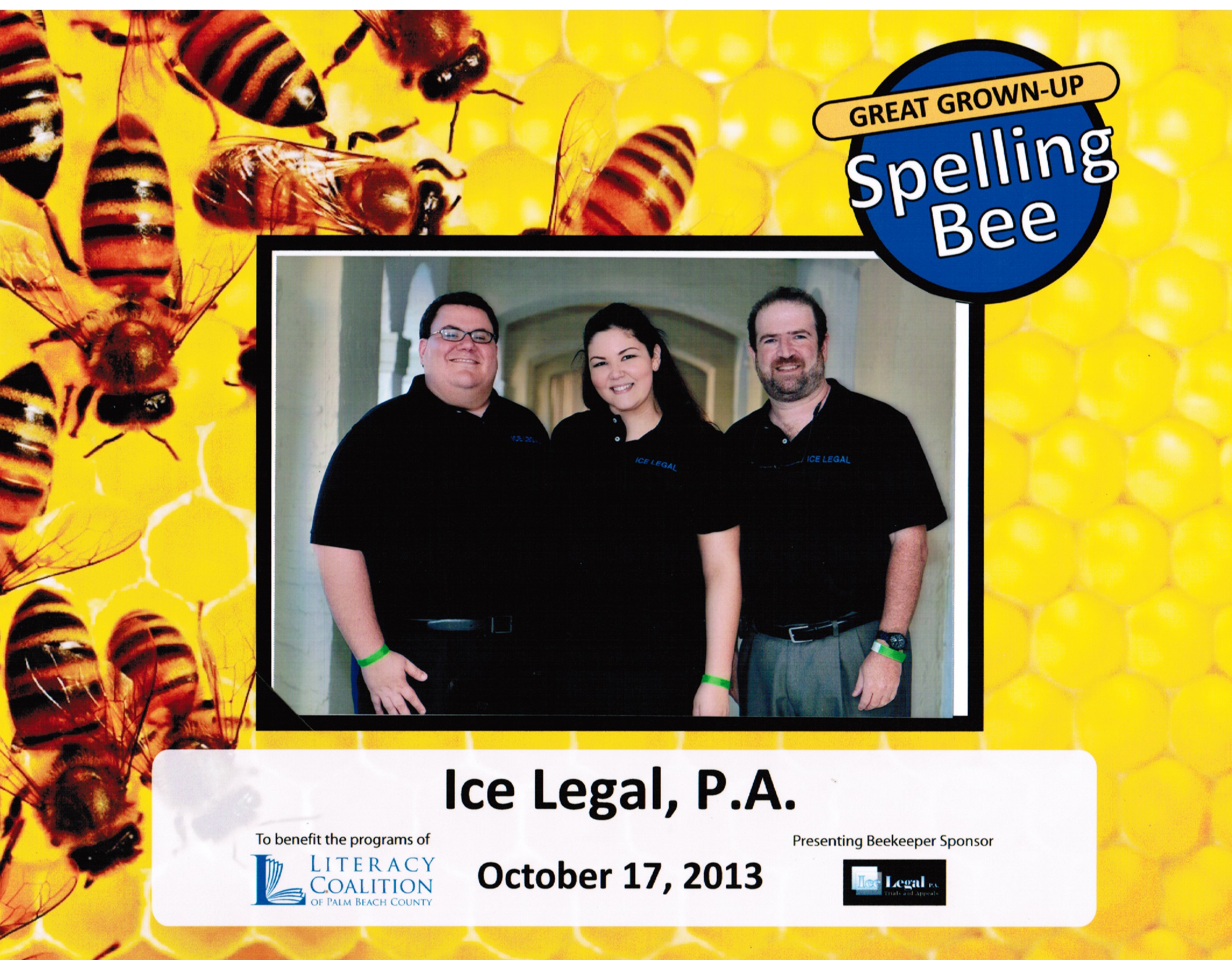 Ice Legal was the Presenting Beekeeper Sponsor for the 2013 Great Grown-Up Spelling Bee to benefit the Literacy Coalition of Palm Beach County. [click here for website]
The contest was held at the Harriet Himmel Theater, CityPlace, West Palm Beach. The Ice Legal team of spellers (at left) made an admirable showing for their first competition, lasting several extremely difficult rounds. The top prize was taken by the Palm Beach State College Team. The Palm Beach Post took second, and Lynn University took third.
Ice Legal attorney, Randy Ackley, appointed Chair of Fund Raising Campaign.
Ice Legal supports community service and its attorneys are actively involved in carrying out this sense of civic responsibility. Ice Legal shares many of the same goals as the YMCA, such as youth development and education, healthy living and social responsibility. We are proud that one of our attorneys has been named as the Chair of the YMCA 2014 Annual Fund Raising Campaign in Osceola County.
Ice Legal attorney, Amanda Lundergan, speaks at National Forum on Residential Mortgage Litigation
Ice Legal attorney, Amanda Lundergan, appeared on a select panel addressing The Borrower's Perspective: Insights From the Plaintiff's Bar and Consumer Advocates at the American Conference Institute's 12th National Forum on Residential Mortgage Litigation & Regulatory Enforcement held September 26-27, 2013 in Dallas, Texas.
Ice Legal gives back to the community.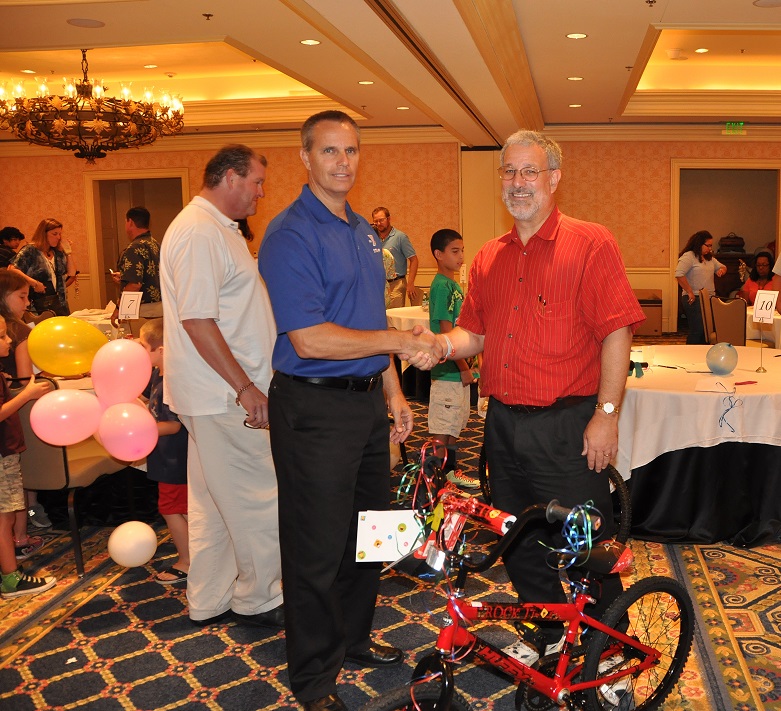 Mike Martino, Executive Director of the Osceola County YMCA, accepts delivery of bicycles from Ice Legal, P.A., attorney and Osceola County YMCA Board Member, Randy Ackley. Ice Legal, donated the bikes to the YMCA to assist with its efforts to help families struggling to meet their health and fitness objectives. Ice Legal gave nine bikes of various sizes to the YMCA and the YMCA identified several children who needed bikes and is also using some of them to support its Annual Scholarship Campaign and efforts to kick off a triathlon program.
Ice Legal attorney, Amanda Lundergan, moderates at the South Florida Foreclosures: A View From the Bench Seminar
On October 11, 2013, Amanda moderated a panel of judges and defense counsel who addressed:
---
What Judges Want Foreclosure Attorneys to Know
Judge John B. Bowman, 17th Judicial Circuit Court of Florida
Judge Mily Rodriguez Powell, 17th Judicial Circuit Court of Florida
Judge William W. Haury, Jr., 17th Judicial Circuit Court of Florida
Roy Oppenheim, Oppenheim Law, P.A.
Moderator: Amanda Lundergan, Ice Legal, P.A.
---
Ice Legal attorneys named Legal Elite 2013
Thomas Erskine Ice was named as one of Florida's Legal Elite in the tenth edition of Florida Trend Magazine's Florida Legal Elite (2013). Steve Brotman was also named an "Up & Comer"—one of only 175 attorneys in Florida under the age of 40 who were honored as having exhibited leadership in the law and in their community. This prestigious publication has recognized Ice Legal attorneys as some of the most esteemed attorneys in Florida as chosen by their colleagues. This peer recognition program garners awards for the top two percent of lawyers practicing in the State.
Ice Legal In The News
Foreclosures stall across Florida in wake of new law. Palm Beach Post (Kimberly Miller)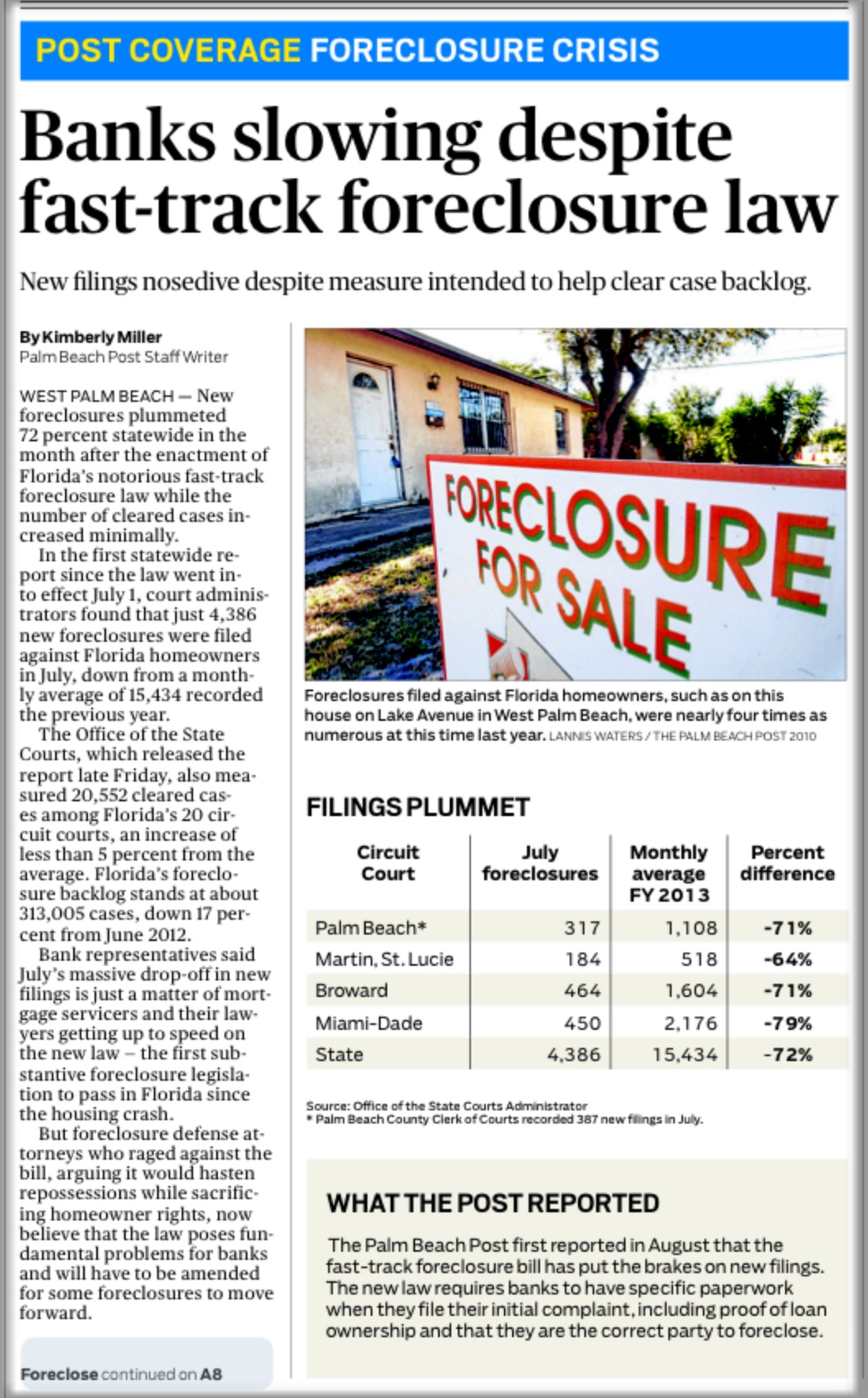 ...Royal Palm Beach based attorney Tom Ice agreed.
"Any increase in the clearance rate is due to the dubiously concerted efforts of the courts—funded with money from the ( National Mortgage Settlement)—to force cases to trial against the wishes of the banks and the homeowners," he said.
"I am one of many who believe that the greatest threat to homeowners' due process rights is the judiciary, not the legislature," Ice said.
4th DCA Robo-Witnesses Ruling A Win For Former Condo Owners. DAILY BUSINESS REVIEW (Adolfo Pesquera)
...Foreclosure defense attorney Thomas Ice of Ice Legal in Royal Palm Beach has been watching the case closely.
"Although the court doesn't use the word 'robo-witness,' this is the case that we've been waiting for on that subject," he said. "It could be the death knell for the banks' business practice of using professional witnesses at trial to introduce computer printouts, where the witness' only connection to those printouts is that they read them shortly before trial."...
...By reversing Cox, the Fourth District noted as precedent a similar decision it made in 2011 in Glarum v. LaSalle Bank, where a bank officer relied on for testimony had read material from a database and couldn't verify whether the entries were correct.
Ice was involved in that case.
He said the one addresses a problem that defense attorneys have been complaining about for some time — bank and association witnesses parroting what's in a document without personal knowledge of its accuracy.
"It says that the Glarum case applies in the context of trial, that a plaintiffs witness cannot just utter the 'magic words' of the business records hearsay exception to introduce their accounting records," Ice said. ...
State closes more land trusts THE PALM BEACH POST (Kimberly Miller)

...Royal Palm Beach based foreclosure defense attorney Tom Ice was one of the first to raise concerns about the trusts after a client signed his deed over to Fidelity.
"These scams prey upon those that already have financial difficulties and directs them away from resources that could help them," Ice said Monday. "Worse, because they involve filing frivolous motions, it denigrates the legal profession and creates even more confusion in the courts." ...
Aggressively pushing open cases through the system. DAILY BUSINESS REVIEW (Adolfo Pesquera)

...Ice never accepted the court's premise that foreclosure cases be brought in compliance with state time standards. He said the standards never contemplated the foreclosure crisis and didn't account for cases where neither party wanted to proceed....
...Ice predicted legal challenges to the law. One constitutional challenge may be that the law infringes on the Supreme Court procedural rulemaking authority because it spells out how foreclosures will be handled. A second, more serious, challenge, he said, is likely over the provision that limits a homeowner who was wrongly foreclosed to monetary damages instead of reclaiming the home if it was purchased by an innocent third party. ...